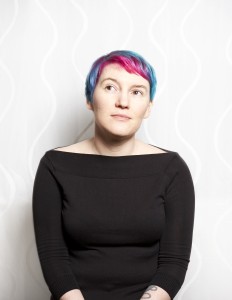 Lindsay Gibb is a librarian, editor and writer with a special interest in zines, film and youth culture. She is based in Toronto.
As a librarian, Lindsay has worked in reference services for the  Dorothy H. Hoover Library at the Ontario College of Art and Design University and the Noranda Earth Sciences Library at the University of Toronto, and has worked on special projects for libraries such as the Sarah and Chaim Neuberger Holocaust Education Centre Library and the Bora Laskin Law Library at the University of Toronto. She is currently the interim Collection Development Librarian for OCAD University, and has worked with OCADU's zine collection for five years.
Lindsay has also consulted with the Toronto Reference Library to help build and promote its zine collection, helped school librarians with their graphic novel collections through The Beguiling's Library Services Department, helped children to build literacy skills at the St. Felix Centre and weeded and conducted collection development for the Canadian fiction collection at Hart House Library. She also launched the zine collection for Hart House Library and gives zine workshops at various public libraries.
As a journalist, Lindsay was editor-in-chief of Broken Pencil, the magazine of zine culture and the independent arts, from 2006 until 2014. She has also worked as Senior Writer for the documentary film industry magazine, Realscreen; assistant to the editor at Canadian film and television magazine Take One; and co-founded the award-winning urban issues magazine, Spacing. She is the author of National Treasure: Nicolas Cage in ECW Press' Pop Classics series.
She combined her library and journalism experience as the Viewpoints Editor for Partnership: The Canadian Journal of Library and Information Practice and Research from 2012 to 2014. As a freelance writer Lindsay has written about film, music, literature and crafts for publications such as Shameless, This magazine, Bitch, NOW, The Establishment and Exclaim. 
As an art programmer, Lindsay has programmed films for the Brampton Indie Arts Festival; organized panel discussions, workshops, readings and contests for Canzine, a yearly zine fair put on by Broken Pencil; and is currently a coordinator of the Toronto Comic Arts Festival's Librarian and Educator Day.
Reach Lindsay at lindsay@lindsaylibrarian.com, connect with her on LinkedIn and follow her on Twitter.
(photo by Helen Yousif)